Emancipet Continues to Expand Affordable Veterinary Care to Families in Need
HOUSTON, Texas (April 6, 2022) – Emancipet is opening its third veterinary clinic in Houston, collaborating with PetSmart LLC and PetSmart Charities® to expand affordable veterinary care across the state of Texas. Emancipet opens and operates veterinary clinics that provide affordable, high-quality and compassionate care in underserved communities with the mission to make veterinary care affordable and accessible for everyone. Emancipet is here to keep pets happy, healthy and with their people. A grand opening will be held on April 13 beginning at 10 a.m. located at PetSmart: 13830 Northwest Freeway with leaders and staff on-hand to welcome new patients and answer questions.
There are more than 50 million pets in the United States that do not receive veterinary care, simply because it is not affordable or accessible to their owners. Emancipet has served the Houston community since 2015, when they opened their first clinic in the East End neighborhood. Along with the second location in Monroe Medical Plaza that opened in 2020, the clinics have provided veterinary care through over 214,000 vet visits in just seven years.
Emancipet Tidwell will be located inside a PetSmart retail store. The new clinic will be the first retail store-based location for Emancipet thanks to PetSmart donating the clinic space and grant funding totaling more than $ 2.2 million from PetSmart Charities. Their multiple gifts included the largest single grant in Emancipet history for $1.4 million that supported a Clinic Opening & Quality Assurance Team. The roster includes veterinarians and technicians to recruit, hire, train, and support new and existing clinic teams as Emancipet continues national expansion.
"More American households now include more pets than young children, and pets are almost universally considered part of the family," said Emancipet CEO, Amy Mills. Every family member deserves quality health care, and we are honored to have this opportunity to expand our reach and provide quality, affordable care to more families in Houston," she added.
Emancipet's transparent pricing offers preventative services such as vaccines, microchipping, and blood tests starting at $15, and spay/neuter surgeries for $89. Emancipet does not require income qualifications from pet parents, ensuring no animal is turned away due to lack of financial resources. With access to affordable, trusted care, fewer pet guardians will have to surrender their pets due to lack of resources.
"Today, 70% of American homes include pets," said Aimee Gilbreath, president at PetSmart Charities. "When pet parents — especially seniors — can no longer afford to care for their pets, they often have no choice but to give up their beloved family members. Investing in this critical partnership with Emancipet leverages their expertise and delivers affordable care that will help keep pet families together in the community they serve. The benefits of caring for pets shouldn't belong exclusively to the privileged."
Emancipet also aims to create the best work experience for mission-driven veterinarians. They offer a competitive salary, extensive employee benefits with non-profit student loan forgiveness status, flexible work schedules, and an equal work-life balance. Emancipet is hiring for a few remaining veterinarian positions at their Houston locations.
ABOUT EMANCIPET
Emancipet is a non-profit on a mission to make veterinary care affordable and accessible for everyone. To achieve this, Emancipet is building the nation's first non-profit, low-cost veterinary care system, establishing clinics in underserved areas of Austin, Houston, Killeen, and Pflugerville Texas; and in Philadelphia, Pennsylvania. Since its founding in 1999, Emancipet veterinarians have provided care through over 1.5 million veterinary visits, and have spayed or neutered nearly 500,000 dogs and cats. To learn more, please visit www.emancipet.org.
ABOUT PETSMART CHARITIES
PetSmart Charities is committed to making the world a better place for pets and all who love them. Through its in-store adoption program in all PetSmart® stores across the U.S. and Puerto Rico, PetSmart Charities has helped nearly 10 million pets connect with loving homes. PetSmart Charities also provides grant funding to support organizations that advocate and care for the well-being of all pets and their families. Our grants and efforts connect pets with loving homes through adoption, improve access to affordable veterinary care and support families in times of crisis with access to food, shelter and disaster relief. Each year, millions of generous supporters help pets in need by donating to PetSmart Charities directly at PetSmartCharities.org, while shopping at PetSmart.com, and by using the PIN pads at checkout registers inside PetSmart stores. In turn, PetSmart Charities efficiently uses more than 90 cents of every dollar donated to fulfill its role as the leading funder of animal welfare in North America, granting more than $500 million since its inception in 1994. Independent from PetSmart LLC, PetSmart Charities is a 501(c)(3) non-profit organization that has received the Four-Star Rating from Charity Navigator for the past 18 years in a row – placing it among the top one percent of rated charities. To learn more visit www.PetSmartCharities.org.
ABOUT PETSMART
PetSmart is the largest specialty pet retailer of services and solutions for the lifetime needs of pets. At PetSmart, we love pets, and we believe pets make us better people. Every day with every connection, PetSmart's passionate associates help bring pet parents closer to their pets so they, together, can live more fulfilled lives. This vision impacts everything we do for our customers, the way we support our associates and how we give back to our communities. PetSmart operates approximately 1,650 pet stores in the United States, Canada and Puerto Rico, as well as more than 200 in-store PetSmart PetsHotel® dog and cat boarding facilities. The retailer provides a broad range of competitively priced pet food and products, as well as services such as dog training, pet grooming, pet boarding, PetSmart Doggie Day Camp™ and pet adoption.
PetSmart, PetSmart Charities® and PetSmart Charities® of Canada work with nearly 4,000 animal welfare organizations to bring adoptable pets into stores so they have the best chance possible of finding a forever home. Through this in-store adoption program and other signature events, PetSmart has facilitated more than 9 million adoptions, more than any other brick-and-mortar organization.
# # #
---
Recommended Reads for Pet Parents
---
Our guide will talk you through how microchips reunite lost pets with their families and answer some frequently asked microchipping questions we hear from clients.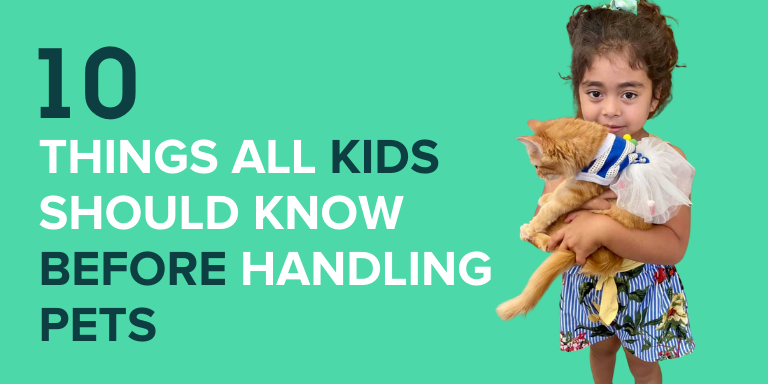 Physically handling pets can be a delicate process, whether they're small and fragile or big and friendly. All pets deserve […]
The number of different brands and formulas of dog food in the pet marketplace can be overwhelming for many owners. […]