Freeze!
Pets need to keep their cool as summer heats up, and these frozen treats to should do the trick!
Pupsicles
Using silicon molds, ice cube trays, or even small paper cups, fill with a combination of your dog's favorite munchies, freeze, remove from the mold and serve. Keep frozen in an airtight container, and serve in moderation – as you would any treat. Try the following, or create your own recipe!
Low/No Sodium chicken broth, peas, carrots & a milkbone pupsicle stick
Plain yogurt & peanut butter (try it with bananas)
Yogurt, a touch of honey, & blueberries
Cool Cats
Using the same freezing method as for pupsicles, freeze a treat for your feline!
Try:
Chicken broth with chunks of chicken
Chicken and rice baby food
Tuna with water, blended until smooth
Frozen PupCake
If your dog needs something to do, as well as a great way to cool off, keep him busy with this icy surprise.
Depending on your dog's size, partially fill a bucket, empty ½ gallon ice cream container, or round cake pan with water or low/no sodium chicken or beef broth. Add some or all of the following:
Milkbones
Your dog's favorite toy
Treats
Dog-safe fruits and vegetables
Freeze overnight or until completely frozen solid. Turn over and run under warm water, or peel away paper container, remove from the mold, and place outside for hours of chilly fun!
And, this adorable concoction makes a great "Barkday" activity for your pup and his friends.
Before you get busy in the kitchen, remember to clear any new diet additions with your vet and feed your pet responsibly. Keep your pet indoors or offer plenty of shade and water in warm weather.
Enjoy!
Before you go – If you enjoyed this post, you probably love pets as much as we do! Did you know that you can sponsor a pet in need each month with a Nose to Tail Team donation and receive a limited-edition tote bag? Join our Nose to Tail Team and help a pet family get the care they need each month for just $0.54 a day.
Recommended Reads for Pet Parents
---
Our guide will talk you through how microchips reunite lost pets with their families and answer some frequently asked microchipping questions we hear from clients.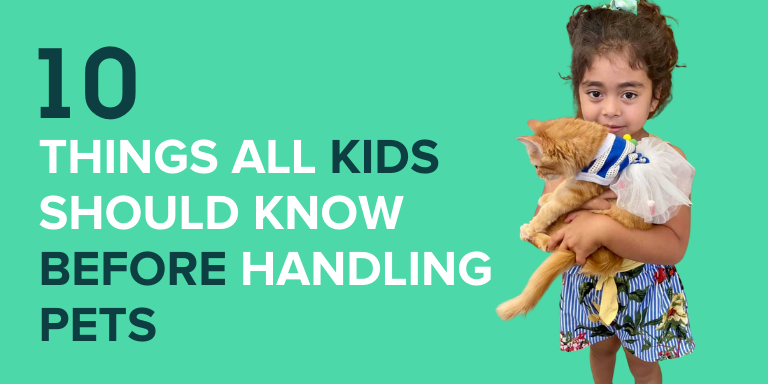 Physically handling pets can be a delicate process, whether they're small and fragile or big and friendly. All pets deserve […]
The number of different brands and formulas of dog food in the pet marketplace can be overwhelming for many owners. […]