Puppies are adorable, fun and full of spunk! That also means that they are burning a lot of energy, so they need a balanced and nutritious diet to help them keep up with their puppy antics. This leads many owners to questions regarding their young companion and how to feed them.
Your puppy is important to us and nutrition plays a huge factor in their overall future health. This article will go over the feeding recommendations for young, growing pups and how we can start them on the right foot!
The Importance Of A Balanced Diet
A balanced and completely nutritious diet is the best way to achieve optimal growth in a young dog. Veterinarians want to see a slow and steady progression in weight and overall growth because moving too quickly or too slowly can be damaging to the dog's life in the future.
Diets that are not balanced and are intended for a maximal or faster growth rate will often result in obesity and skeletal deformities due to the excessively high fat content of the food.
What a puppy really needs is a diet that is specifically formulated for the growth and proper development of a growing young pup. Typically these diets contain more calories than an adult dog food as well as key vitamins and nutrients that are geared towards a puppy's immune health, strong bones and a sharp mind.
Meeting AAFCO Standards
Before ever choosing a diet for your puppy, it is necessary to inspect that the food has been approved by and regulated by AAFCO standards. This ensures that the diet has been properly inspected and is guaranteed to be balanced and nutritionally complete for a growing puppy.
If you have a large or giant-breed puppy, you may want to look for a diet that is specifically formulated for big dogs, as their nutritional needs differ slightly from that of smaller breeds. Similarly, a very small/teacup breed may need food formulated for small breeds because formulas for larger breeds may be difficult to chew!
How Often To Feed A Puppy
Puppies are always on the go, and much like infants they require more frequent feedings than an adult dog. They may also struggle to regulate their blood sugar levels while growing, and if they go too long without eating, they may develop dangerously low blood sugar levels. However, free feeding is not recommended for puppies as they don't have the best self-control and it often leads to overeating and obesity.
Puppies that have been weaned should eat small, frequent and measured meals.
8-12 weeks: feed 4 times daily
12-16 weeks: feed 3 times daily
16-24 weeks: feed 2-3 times daily
Frequent weigh-ins at your vet clinic will help to understand if you are under or over feeding your pup. Don't hesitate to reach out to your veterinarian if you have any questions about your dog's feeding schedule or diet.
How Much To Feed A Puppy
The quantity of food that you should feed a puppy depends on the weight the dog should be at full maturity. This will vary as well depending on your dog's energy level.
Oftentimes the bag of food already has a suggested feeding amount, which is a good baseline to go off of. Just remember to adjust according to how your puppy is growing in order to avoid under or overfeeding your dog.
Adult Dog Food Is Not For Puppies
Adult dog food should not be fed to a growing puppy. While some of them may have some aspects that are nutritionally correct for puppies such as the protein content, the remainder of the diet does not have appropriate levels of fat, calcium or carbohydrates to support a growing puppy. In most dog breeds, transitioning to adult dog food is appropriate at about 1 year of age, although some larger breeds are still growing at that age and may benefit from puppy food for a little bit longer.
The 5 Essential Nutrients In Puppy Food
It is important to understand the key nutrients that your puppy requires for proper growth and development. In order for your dog to achieve a healthy body and immune system, it is pertinent that the diet you choose has these 5 essential nutrients.
Protein
Fat
Calcium
Carbohydrates
DHA
Protein
Appropriate levels of a high quality dietary protein are crucial for a puppy's rapid growth and development. The normal recommended amount of protein is 22-32%, exceeding that can cause obesity as well as potential skeletal issues.
Puppy protein requirement is usually at its highest immediately after weaning from their mothers. This number will steadily decrease as they age.
Fat
While many people may associate it with unwanted weight gain and obesity, fat is actually an extremely important aspect of everyone's diet, especially puppies! In fact, fat is a crucial energy source and puppies use a lot of it! Fat is also an important source of essential fatty acids that are needed for rapid growth and development.
Now, too much fat is where the problem lies. A diet with too much fat will lead to obesity and orthopedic issues. This is why it is recommended by nutritionists that a puppy only has 10-25% fat in their diet.
Calcium
Calcium is important for healthy teeth and bone development in puppies, just like in humans!
Calcium content is where choosing the proper diet for your puppy's breed and size is extremely important. Large and giant breeds have a higher calcium requirement that their smaller counterparts, which is why diets specifically formulated for those dogs have become more commonplace.
Carbohydrates
Poor carbohydrates can sometimes be misunderstood. They are another vital energy source, breaking down even before the protein or fat does. Digestible carbs are also an excellent dietary fiber, aiding the digestive tract in keeping their puppy bowels regular and firm.
DHA
DHA (docosahexaenoic acid) is another essential component of a puppy's diet that aids in neural development. This omega-3 fatty acid helps to play a vital role in the young dog's central nervous system and retinal functionality. Basically, it's good for their brains!
Puppies naturally obtain DHA from their mother where they eventually will get it from protein sources such as fish or fish oil supplements.
Conclusion: Feeding Your Growing Puppy
Your growing pup will have a unique dietary requirement compared to an adult dog, which is why they have their own puppy food formulations that check all the necessary boxes. Frequent, but portioned meal feedings of a balanced and nutritionally complete diet will ensure that your dog grows up to be the healthy and strong canine that you always envisioned.
Before you go – If you enjoyed this post, you probably love pets as much as we do! Did you know you can help a dog or cat who needs life-saving veterinary care right now? Join our Nose to Tail Team and help a pet family get the care they need each month for just $0.54 a day.
---
Recommended Reads for Pet Parents
---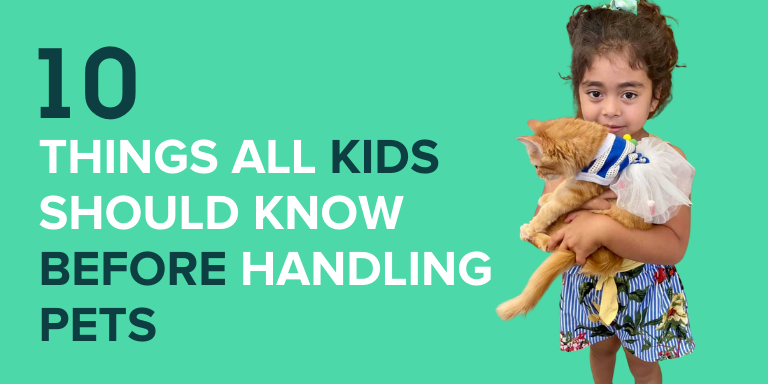 Physically handling pets can be a delicate process, whether they're small and fragile or big and friendly. All pets deserve […]
The number of different brands and formulas of dog food in the pet marketplace can be overwhelming for many owners. […]
Many pet owners are aware of the more commonly known toxic foods for dogs and cats, such as chocolate and […]